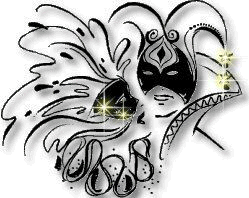 ---
Mardi Gras. Fat Tuesday. Carnival. Parades, Balls, Sunday barbeque downtown. It's a great time of the year and best of all it's free. Mobile has the largest Mardi Gras celebration outside of New Orleans. Our Mardi Gras is different. It's more family oriented. Our crews throw candy for the kids. The parades are smaller. The Mardi Gras Balls are more formal.
When you think of Mardi Gras, most people think of New Orleans. Well, it started in Mobile. Mobile's first Mardi Gras celebration dates back to 1704, when Societé de Saint Louise was founded. Mardi Gras started in New Orleans 14 years later. Even Comus, one of New Orleans most prestigious Mardi Gras societies, was formed with help from Mobile. In 1857 members of the Cowbellian de Rakin Society traveled from Mobile to New Orleans to assist in the formation of the Mystic Krewe of Comus.
Mardi Gras celebrations took some time off for that unfortunate period when the states couldn't get along. But once again, Mobile beat New Orleans to the punch. In 1865 a Confederate Civil War Veteran by the name of Joe Cain set out to revive Mardi Gras in Mobile. Following the South's defeat, Mobile was occupied by Union troops. Joe defied Federal Law by talking six of his fellow veterans into joining him on Mardi Gras day. They rode down the middle of town in the back of an old coal wagon drinking, screaming, yelling and generally having a good time. Cain was dressed as a mystical Indian Chief, known as "Slacabamorinico". Cain and his practical joke captured the hearts of the citizens of Mobile and revived Mardi Gras. Joe rode in every Mardi Gras until his death in 1904.
In honor of Joe, the Sunday before Mardi Gras has been named "Joe Cain Day". It's our biggest celebration. More than 85,000 people crowd downtown Mobile for the festivities. It is one of the biggest family events in the country. Joe Cain Day has even found a home in Nevada. Check out their homepage.
Well, enough bragging about Mobile's Mardi Gras. Susan is a member of a Mystic Society in Mobile. I can't say which one because the members are supposed to be secret. I follow Groucho Marx's lead. I won't join any group that would have me as a member.
Like all members, Susan pays to be in the organization and pays for all of her "throws". Her Mystic Society always parades the Tuesday before Mardi Gras. This year it will be February 5. Every member has to wear a mask while riding in the parade so they can't be identified. After the parade they have a huge Ball. It's a strange mixture. The Order is all female. All escorts to the ball must wear white gloves and tails. Invited guests must wear tails or formal gowns. Now here's the odd part. The riding members of the order wear their costumes to the ball. These costumes are so gaudy, most women would never be caught dead in them any other night. They fit like burlap sacks and never flatter any figure. It's the same for all societies; the riding members always wear their costumes to the ball.
All Balls include all the free food and drink you can consume. Bands range from local dance bands to the Doobie Brothers, Bad Company, Jefferson Starship, and others. The Balls are paid for by the Krewe, and ticket sales. Tickets are available on an invitation only basis from Krewe members. Tickets are not cheap. They usually cost $50.00 to $100.00 per couple. However, a real Mardi Gras ball is an event that should not be missed.
Now lets look at some pictures.
---
Mardi Gras Photos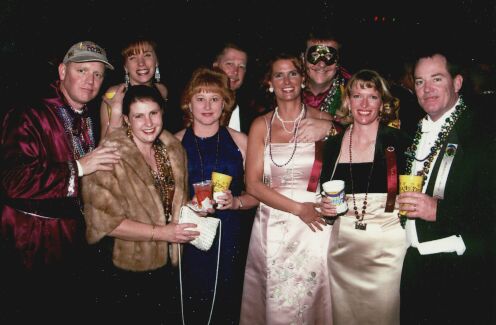 ---